Suffering from ongoing neck pain is crippling and can make it difficult to walk, move, or perform simple tasks. Whether you have neck pain due to an injury or have an ongoing condition, our team at Kaisk Chiropractic in Akron, OH, can help. Our team provides a safe path to wellness while offering effective treatments for comprehensive alternative neck pain solutions. Here are some frequently asked neck pain questions and how our chiropractors may be able to help.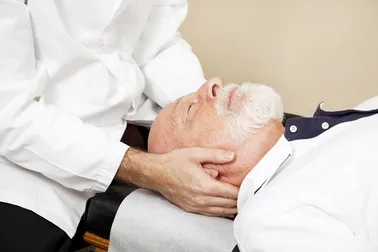 What Injuries Cause Neck Pain?
Neck pain can come from an injury or can be caused by sudden, painful motions. An injury may come from a fall or auto accident. Whiplash is a common auto accident injury that usually occurs when your vehicle is hit. Neck pain can also stem from an injury to the neck's soft tissues, such as the muscles, tendons, and ligaments. Your neck also has several individual bones that can also be injured.
What Conditions Cause Neck Pain?
If you are experiencing dull and aching pain, chances are you may have a disease or condition that is causing your pain. Common neck pain conditions can include degenerative disc disease, scoliosis, osteoporosis, or arthritis. These conditions tend to worsen with age.
Is A Tingling Sensation Normal?
For many neck injuries having a numbness or tingling sensation is typical. Numbness usually extends through the neck, shoulders, arms, and even to the hands. Your neck may also feel stiff and sore and have a limited range of motion. Numbness and tingling are very common with disc injuries. It's still important that our team gives you a proper assessment of your neck.
How Can a Chiropractor Help?
Our chiropractors offer non-invasive solutions for your neck pain that are safe and effective. Our chiropractors believe that the body must be in balance. When the muscular and skeletal systems are in harmony, the body can move freely without undue stress on joints and bones. To put the body into alignment, our chiropractors have several tools at their disposal. Common treatment options include manual manipulation, physical therapy, stretching exercises, medical massage, or heat therapy. Our team may use one or a combination of several techniques to treat your neck pain.
Contact Us for Neck Pain Treatment in Akron, OH
Our team at Kaisk Chiropractic is knowledgeable, dedicated, and passionate about patient care. We understand healing from a neck injury can be difficult, and dealing with neck pain can make it hard to tackle even simple tasks. Our team is here to help offer you safe, effective, and alternative solutions for your neck pain at our Akron office. If you would like to learn more or schedule an initial evaluation, give us a call today at (330) 733-1203.