Your legs play a critical role in your life – they allow you to walk, sit, stand, and be active. This is why having leg pain, whether acute or chronic, can be very disruptive to your daily life. Over the last couple of decades, more and more people have realized that visiting a chiropractor for chiropractic care is the best way to relieve leg pain and prevent it from returning. At Dunn Chiropractic in Akron, OH, we offer world-class chiropractic care treating all kinds of physical pain. Following are the answers to several questions we receive regarding leg pain.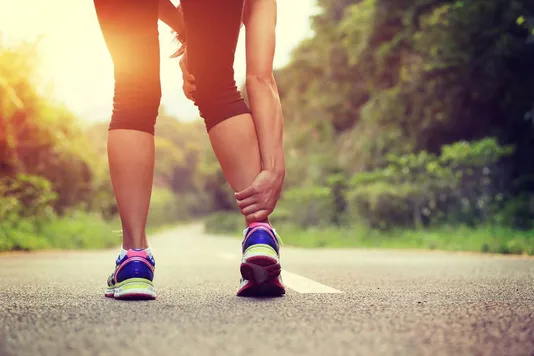 What Causes Leg Pain?
Leg aches can present as stabbing or dull pain, weakness, and numbness in the lower extremities. Causes of leg pain include:
Sprains and strains: These are injuries that occur as a result of a fall, slip, or misstep, whereby your leg ligaments and tendons get overstretched beyond their natural limits or torn, resulting in pain and immobility.
Tendonitis: This condition causes the inflammation of the tendons in the knee and ankle joints, causing pain and limited mobility.
Sciatica: This involves the sciatic nerve, which runs from the lower back to the legs, getting irritated or damaged, leading to pain from the lower back to the legs and feet.
Neuropathy: This ailment results in nerve damage causing pain in the lower extremities.
Osteoarthritis: This involves the wearing down of the protective cartilage in the knee or hip joints, causing the bones to rub against each other, resulting in knee pain.
How does a Chiropractor Diagnose Leg Pain?
Before you begin chiro treatment for leg pain, our chiropractor will ask you questions about the pain and your medical history. We will also examine you physically, including testing your legs' response to sensation and range of motion, to establish the location and cause of the pain. X-ray images and CT scans of your leg may also be taken. All of these will allow the chiropractor to diagnose the root cause of your leg pain and create a chiropractic care plan to address it.
How does a Chriopractor Treat Leg Pain?
Your leg ache chiro treatment may involve a couple of the following remedies:
Spinal manipulation: This helps alleviate leg pain associated with sciatica and improper spinal balance
Kinesio taping: This is done to address nagging pain, tightness, inflammation, and immobility
Stretching exercises: To reduce pain, strengthen leg muscles, and improve flexibility
Therapeutic massage: Massage will relax tense muscles, improve flexibility, and reduce pain and inflammation
Schedule an Appointment with Our Chiropractor in Akron, OH
If you are an Akron, OH resident or reside in the surrounding areas, welcome to Dunn Chiropractic for exceptional chiropractic care. Call us today.