Does your neck pain affect your ability to work, sleep, and participate in things you normally love to do? We invite you to call or stop by Kaisk Chiropractic to find out how our Akron chiropractor can get you on an individualized treatment plan and help you get back to your normal life with less pain and dysfunction.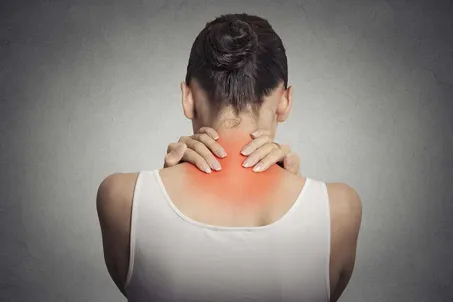 Why Does My Neck Hurt?
The neck is a complex area of your spine that includes seven vertebrae and dozens of ligaments, muscles, nerves, tendons, spinal discs, and blood vessels. A variety of health conditions can impact the integrity and function of these tissues leading to symptoms like pain, headaches, numbness, tingling, and weakness in one or both arms. These conditions can include:
Whiplash
Nerve compression (cervical radiculopathy)
Disc herniation or bulge
Osteoarthritis and degenerative disc disease
Muscle strains and ligament sprains
Acute joint locks and vertebral subluxations
Tech neck (caused by spending a lot of time hunched over a computer or smartphone)
Neck pain sometimes occurs as a result of health conditions that involve other areas of the body, like shoulder pain and tension headaches.
Risk factors for neck pain include poor posture, older age, female gender, trauma, and repetitive overhead movement. Since lifestyle habits like poor diet and smoking can damage joints, promote inflammation, and impair healing, these can be risk factors as well.
How Our Akron Chiropractor Treats and Prevents Neck Pain
Health experts agree that conservative treatment like chiropractic care can be effective for relieving neck pain and should be explored before undergoing more invasive options like surgery. Our chiropractor has helped hundreds of our community members avoid surgery and reduce their reliance on pain medications by offering effective and holistic healing services that address the root of a person's neck pain. Some of the treatments that our chiropractor will use include:
Lifestyle counseling and postural re-training. This helps you avoid recurring positions and behaviors that exacerbate pain and tissue damage.
Chiropractic adjustments can ease the intensity of pain signaling in the nervous system, realign spinal joints, and alleviate pressure on injured discs and nerves.
Acupuncture promotes beneficial biological changes in the body that ease painful trigger points and enhance whole-body healing.
Corrective exercises and stretches that address specific strength, endurance, and mobility limitations in the neck, shoulder, and core.
Massage therapy eases physical and mental tension and increases blood flow to accelerate healing.
Is Neck Pain Disrupting Your Daily Life?
To schedule an initial consultation today at Kaisk Chiropractic in Akron OH, call (330) 733-1203 today.