Conditions Treated by Kaisk Chiropractic in Akron
At Kaisk Chiropractic, we're proud to be able to provide our patients with a range of all-natural and non-invasive treatments for various conditions causing pain and discomfort. We urge you to seek us out before undergoing surgery or pharmaceutical intervention that you might not need. It's just possible that we can treat your condition with massage therapy, acupuncture, and other chiropractic interventions or dietary and nutritional guidance.
We start by carefully listening. We'll find the underlying cause of your pain before recommending a course of treatment. Here are some of the leading reasons patients come to see us at Kaisk Chiropractic and Acupuncture Natural Health Center of Akron.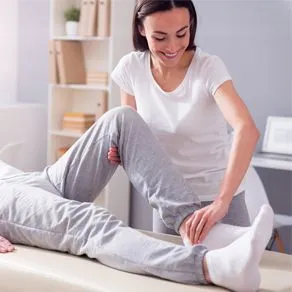 Auto accidents -- The jarring effect that even a low-speed vehicular crash can have on the human skeletal system can be devastating. Patients come to chiropractors exhibiting symptoms of whiplash and serious misalignment. They have headaches and pain emanating from their necks or spines or other locations.

We can respond with a range of therapies, including spinal decompression, massage or acupuncture. Accident injuries of this sort don't always show up immediately, so it's important that you schedule an appointment with us soon after even a low or moderate-impact incident. Don't take chances. The sooner treatment starts, the less time you'll spend in pain.
Workplace injuries -- Repetitive motion injuries are common in workplaces where employees must constantly bend, twist, lift and lower objects. Do that for eight hours a day, five days a week and you'll eventually feel the impact unless you're superhuman.
You might also experience a sudden injury at work, such as by being bumped by a forklift or suffer serious spinal injury in lifting a heavy object. But it's not only physical laborers at risk of workplace injury. Even office workers can suffer a range of injuries that can be effectively treated by a chiropractor.
Sports injuries --Did you injure yourself swinging a golf club or skiing an alpine course last weekend? Or are you still suffering the lingering effects of being a high school tailback? We've seen the aftermath of all of those sports calamities and many more. But don't worry. We have effective treatment options for just about every sports injury we diagnose.
Chronic pain -- We see patients all the time who had figured that they were just going to have to live with the pain of a long-ago injury. The truth is that it's actually pretty rare when such chronic pain can't be treated or alleviated with chiropractic intervention.
Call us today
There's no reason you should ever accept constant pain or discomfort as a way of life -- or deal with it through a lifetime treatment plan of painkillers. Regardless of the cause of your pain or the length of time you've had it, make an appointment with Kaisk Chiropractic in Akron, Ohio. We'll listen, ask questions, diagnose, and explain treatment options that just might change your life for the better. Call us at (330) 733-1203 today.